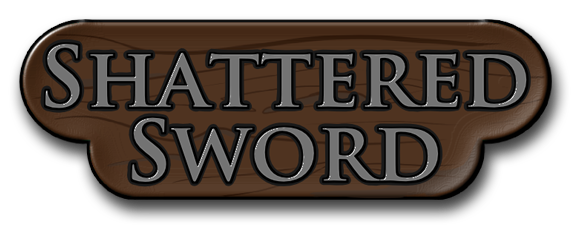 Shattered Sword
A downloadable game for Windows
The land of Alnekith is the greatest civilization of its time. Split down the middle, the two kingdoms of Regulus and Daurox warred for eons over the right to rule – but neither proved strong enough.
The two ancient states deliberated on how best to proceed – it was decided that a tournament, held every 6 years, would decide which kingdom would reign. Claim victory for your nation by surviving the tournament and crushing your opponents!
Several unique mechanics are present :
- Tenacity Meter: As you play, every time you are damaged by an opponent, an energy meter slowly fills. When it is completely full your character gets a second wind, and their attack damage is increased significantly, but nothing else is done. This keeps the ability to come back at the end of a match, but doesn't guarantee it. The rebounding player must still connect the attacks. You keep this bonus even if you are killed by your opponent, however if you kill yourself it is lost.
- 3 Weapon Model: Each player character can carry 3 weapons at once, but can only wield one at a time. Switching weapons changes more than just how powerful your attacks are (both in damage dealt and knockback distance), but also how fast the character can move, how high they can jump, and how long an attack will leave you vulnerable afterwards. Small weapons let you dance around someone with a heavy weapon, but the opponent can still overcome you by catching your incoming attacks and deflecting them, or simply by attacking earlier. Medium weapons are good at everything, but exceptional at nothing. You'll be both strong and weak against the other two modes.
- Airdash: If a character is knocked off the stage and is facing certain doom, they can use the airdash to try and return to solid ground. One airdash is given per ground-leave, but another is granted if attacked.
This game is currently in Alpha phase. This means that most of the engine is complete, the gameplay code is still being prototyped but is playable. The artwork is still mostly programmer art and will be revised as much as possible before the final version.
If you think this game has promise, please consider supporting it! Whether your purchase a copy or tell your friends about it, your support is greatly appreciated. Purchasing also gives you access to any future PC versions for free! The free option will end when the beta phase starts, so get it while it's hot!
FAQ:
Q: What control inputs can I use?
A: The game plays best with wired x360 controllers, but if you have other kinds of controllers, using 360 Controller Emulator will let you use your controllers. You can also use the keyboard, but it isn't recommended.
Q: Is this a multiplayer only game?
A: The public Alpha includes a training arena where you can learn the controls, but is otherwise a multiplayer-only game. The finished product, however, will be both single and multiplayer. There will be a story mode, as well as AI opponents for multiplayer mode.
Q: Will this game be finished?
A: Maybe. Someday. I'm actually considering re-making the entire thing in 3d with Unity.
Download
Click download now to get access to the following files:
ShatteredSword_PublicAlpha_2_17_2014.rar
171 MB